After months of consoling ourselves through winter with dark spirits and rich, intentse cocktails, the first glimpse of sun brought with it an excuse for the teams, with our Head of Bars Liam Davy at the helm, to perfect the creative ideas they've had simmering away and unleash them in a blaze of garnish-filled glory onto our menus. So let us introduce you to our new creations for spring '22 – classic cocktails and flavour combinations reimagined with fresh seasonal produce, that taste great in lighter and longer drinks for sunnier days.
R.A.C Aviation
A classic rhubarb & custard combination in cocktail form 

Bombay Sapphire 1er Cru, rhubarb cordial, vanilla, lemon, maraschino
A lighter, sharper way to enjoy what is, without a doubt, one of the country's favourite combinations. Tart, vibrant pink rhubarb and soft, mellow vanilla are an absolute match made in heaven!
Despite being created in 1916 and popularised by Harry Craddock at the Savoy in the 1930's, the aviation (a
combination of gin, lemon, maraschino and violet liqueur) was largely forgotten about before making a huge comeback
in the mid 00's and becoming a well known cocktail among gin-lovers since.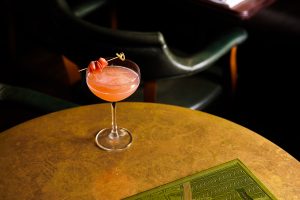 Green Snapper
Our savoury ode to British summertime.

Beefeater Gin, green tomato, jalapeno, lime, cucumber, lovage
As with a great Bloody Mary the key is the perfect balance of sweet (tomatoes, apple) sour (pickle juice, lime) salty/savoury (celery salt, Umami gin) and spicy (jalapeño, green Tabasco). The big difference here is that all the flavours are designed to be light, bright and verdant, reflecting the summer season.
Audemus Umami Gin, which is used alongside Beefeater in this cocktail, is distilled with, alongside other botanicals,
parmesan cheese rind. This gives a depth of savoury flavour that is perfect for a Bloody Mary style cocktail.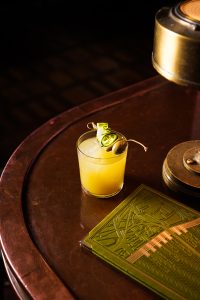 Rimini Iced Tea
A long long way away from Long Island, an Italian-inspired cooler pairing peaches and basil

Apple Brandy, peach, basil, sparkling Darjeeling
Rimini, a seaside town on the east coast of Italy, is famous for a few things, but among them is being the birthplace of
filmmaker Federico Fellini, and home to some of the world's best peaches – and they pair wondefuly with basil. Both are at their absolute best for a few months in the summer.
We turn them into a lively cordial with cold IPA as the base and – getting technical here – a little bit of tartaric acid (the acid most commonly found in grapes) to give it a little zing. The base spirit of this cocktail is Avallen Calvados, a spirit which works incredibly hard to be sustainable to the extent that not only are they carbon neutral but in fact claim that each bottle removes 2.7kge of carbon from the atmosphere without carbon offsetting!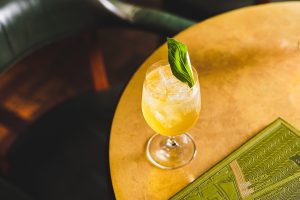 Factor 50 Fizz
All the fun of a summer holiday, but without too much sugar and booze

Lillet Rose, strawberry, cucumber, sparkling coconut water
More reminiscent of the beginning of summer than the first sniff of suntan lotion. Based on Lillet Rose (a type of wine flavoured with herbs and spices) this is a long spritz'y summer cocktail that, despite the strawberry and coconut, isn't too sweet. This cocktail is the unbridled taste of holidays, but with enough dryness and finesse to stop you burning on your first day.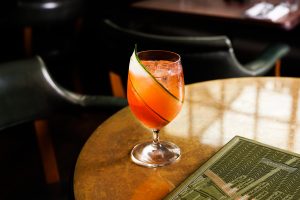 Moselle Martini
A martini for people who aren't certain they love martinis yet

Fords Gin, cucumber, riesling vermouth, pear eau de vie
We LOVE a great martini at Hawksmoor. Ice cold, dry and really strong. However not everyone is after what is
essentially an ice gold glass of gin or vodka. So we've introduced a more mellow, "wet" (as opposed to "dry") and lightly fruit forward martini for those who are after something a little bit more gentle. Exactly the kind of drink you might like on a warm summer evening overlooking a vineyard.
The Moselle (French for Mosel) is a winemaking region of Germany which produces both Riesling grapes and a prolific producer of Eaux des Vies which also feature here.