Three years is a thick chunk of time. It's about seven-tenths as long as the first walk around the world, one-eighty-fifth as long as a giant tortoise's lifespan and about 500 times as long as the voyage of the Titanic. It's also the amount of time, effort and patience it's taken for the, now triennial, occurrence of our brand-new cocktail menu.
If we have learnt anything over the last few years it's that life is for celebrating. And, we've created this all-new list (save for six sacred Hawksmoor classics) with that thought in mind. So lots of bubbles and top-shelf liquors to help the decadent you kick back and celebrate life with friends and family.
It's all been inspired by our New York home. A mere olive throw from the (probable) birthplace of the martini, we couldn't be on more hallowed turf out there and have spent more than a few blurry days and nights sipping from the city's liqurary past and present.
And, as with everything we do, there is a hidden skill and artistry that is shown in the level of detail behind making each drink special. It's a painstakingly beautiful and creative process. A process that allows us to bring out the best of Hawksmoor talent, commitment to quality ingredients and unwavering urge to do better to the fore – from infusing wine, finding ways to bring drinks to freezing point and discovering the best distillers that will do the vision justice (and vice versa).
So, let's meet some of the line-up…
SHARPENERS
New York is the spiritual home of steakhouses and stiff drinks. A properly made sharpener before a hunk of seared beef is part of the ritual there. We've ramped up some of our favourite openers the only way we know how.
Gimlet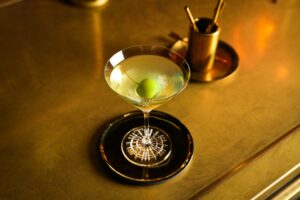 About 20 years ago, Liam Davy (Head of bars) had the most perfect Gimlet of his life in Madrid and, ever since he's been on a quest to find one that tasted as good only to be sorely disappointed as the gin and lime cordial combo never quite cut it. Using several different elements of lime to give a real depth of green citrus flavour, Liam has finally nailed down that silky mouthfeel and vibrant multi-layered citrus flavour profile.
To make our Gimlet we infuse Plymouth Gin with Rose's Lime Marmalade and lime leaves and then make a cordial from the lime zest, sugar, citric acid and coconut water. It's all mixed together and then poured over greek yoghurt (yes, yoghurt) and left to infuse for 6-12 hours. Once the crystal clear liquid is strained we add more gin and dilute to drinking strength. The resulting liquid is stored in the freezer for service and served in our v-shaped martini glass with a mini apple.
THE MARTINI
The beating heart of this new menu is classic steakhouse cocktails and most of all the Martini. Hawksmoor has for a number of years been a great place to drink the king of the cocktail world.
Ultimate Gin Martini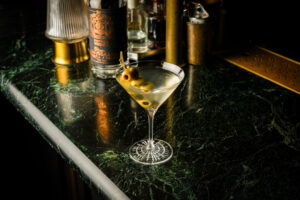 We're introducing the insulated flask technique that has won critical acclaim in New York (and Wood Wharf!). Each drink is chilled to a bracing -12c and served to order from an insulated Yeti flask. Making it a perfect experience, every time.
Pink Gibson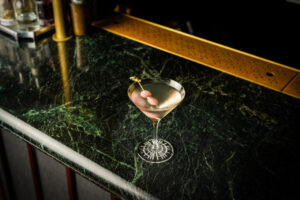 Tangy, with smooth texture and an umami hit.
The Lowback's Pink Gibson was named as one of the best martinis in London by the Evening Standard earlier this year, so it made sense that we add it to the menu for our Hawksmoor restaurants across the country.
"The savoury Pink Gibson from this menu is made with vodka, umami gin, dry vermouth and a pink pickled onion, and is the star of the show. It is silky, perfectly balanced, ice-cold – obviously…"
THE SECOND GOLDEN AGE
Although there is a time and a place for a lurid blue 'disco drink', the 70s and 80s were a dark moment in the history of the cocktail. Thankfully, from the mid-1990s things began to markedly improve, the sickly sweetness and lurid blueness dialled down and top-shelf booze got a look in. So, in a homage to the era that resurrected the craft of the cocktail we've revived a few of our favourites from the Second Golden Age that followed, brought up to date a little but still with plenty of millennial exuberance.
Lychee Martini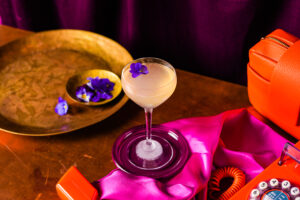 Nothing epitomises this era of cocktails more than a vodka martini made with fresh fruit or fruit syrup and these drinks (watermelon, apple and lychee martinis) were absolutely everywhere for most of the 00's. Eventually, bartenders and drinkers started to explore more complex and interesting cocktails but there is something properly fun about a cold, fruity lychee martini.
This drink is quite a departure from the booze n' syrup original. For the base we use two different spirits, a Madagascan vanilla flavoured vodka from Portobello Rd distillery and Singani 63, a delicious distilled muscat brandy from Bolivia with a distinctive floral flavour. The lychee comes from a liqueur and is then sweetened with some cucumber-infused agave. Sourness comes from lemon juice and an orange wine with some added malic and citric acid. The drink is supposed to be bright but also a little tart. It might be more accurate to describe it as a sour but it will definitely appeal to Lychee Martini lovers (and hopefully convert some haters).
NIGHTCAPS
Whether you're into sweet and indulgent or bitter, dark and serious. These are the perfect after-dinner drinks.
MISO MUDSLIDE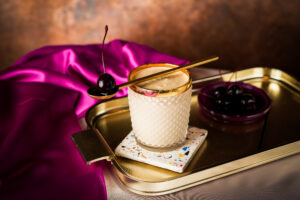 While a frosty, fruity Sgroppino or a rich and intense Fuller Fat Old Fashioned are wonderful ways to round off your meal, sometimes you feel like something a bit…EXTRA? The three inspirations for this drink are Carla Henriques (Executive Pastry Chef) use of savoury flavours in sweet desserts, the incredible miso white chocolate cookies at Esters in Stoke Newington (if you haven't tried them, do) and the Horlick's Ice Cream bun at Bao Soho.
The base for the mudslide is an excellent quality Cuban Rum, Eminente 7 y.o with a generous splash of Hotel Chocolat Salted Caramel cream liqueur. This is blended with a mixture of clotted cream ice cream, dulce de leche, white miso, Horlick's powder, a generous pinch of salt and a splash of milk.
It's rich and smooth with the sweetness of the caramel and ice cream balanced beautifully with the saltiness of the Horlick's and big umami hit courtesy of the miso!
And that's just a taster… See the menu near you: