Back in the '80s a farmer from Southminster, Essex called Geoff Thorogood told his son, Pip, that he wanted to try growing something a bit different. Together, they planted the farm's first asparagus bed.
Fast forward 40 years and Geoff's grandson, Mark, is still planting the same organic spears and this season, they're back on the menu in our London restaurants. For dishes in Manchester and Edinburgh, we use the locally-grown Evesham asparagus.
From the afore-mentioned asparagus to vibrant radishes and broad beans, this season we're inspired by the flavours and colours of ingredients at the height of their freshness.
Here's a closer look at the latest line-up:
Starter – Spring herb salad
Light and vibrant, it's an elegant mix of peppery radish, creamy Neil's Yard goat's curd, punchy lilliput capers with an added crunch from Rye By The Water sourdough crisp – made using wild-farmed flowers.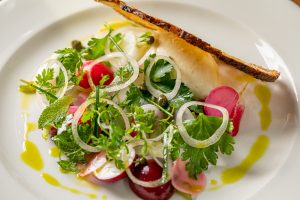 Starter – Evesham asparagus
So, you already know about the asparagus; it comes generously topped with our original hollandaise sauce – a recipe that hasn't changed for years.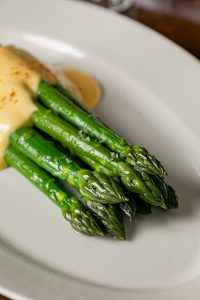 Main – Ricotta dumplings (vegan option available)
Pillowy ricotta dumplings, fresh garden peas, broad beans and asparagus with a wild garlic sauce. You won't see it written on the menu, but there's a vegan option too – just ask for it.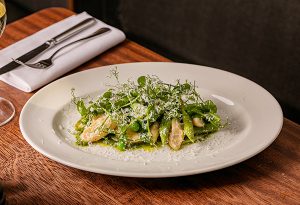 Pudding –Yogurt & lemon cheesecake
Held together by zesty lemon curd, this creamy cheesecake sits amidst crumbly shortbread and juicy blueberry compote. Finish with a little espresso and you're away.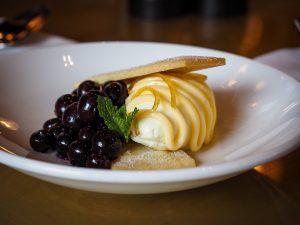 If we've gone a little way in whetting your appetite, pop down and let us know what you think.