Purchase_ea: 0
Capacity: 16
Available: 16
Availabilty: high
bool(false)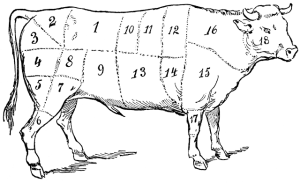 Wednesday, 3rd October
6:30pm - 10:00pm
We are sorry. There are currently no tickets available for this event. Check back soon!
Join us at Hawksmoor Guildhall for an indulgent evening of food and drink as we celebrate the infamous "Sublime Society of Beef Steaks" with Matthias Lataille, Martell Brand Ambassador. Throughout the evening he will challenge your perception of Cognac by exploring the various ways you can enjoy Martell's prestigious range.
You will be welcomed to our private dining room with a hand-crafted Victorian inspired punch – Gog and Mcgog; the lovechild of a traditional British aperitif. This will be followed by a menu of roasted scallops with white port & garlic and British grass-fed rare breed beef with a selection of sides and sauces, each course will be paired with wines carefully selected by our wine team.
After dinner, a Martell XO luxury punch will be served to cleanse the palate and accompany a selection of British cheeses before moving on to the grand finale – Martell Cordon Bleu Gourmand accompanied by our well-loved chocolate and salted caramel 'Tributes'.