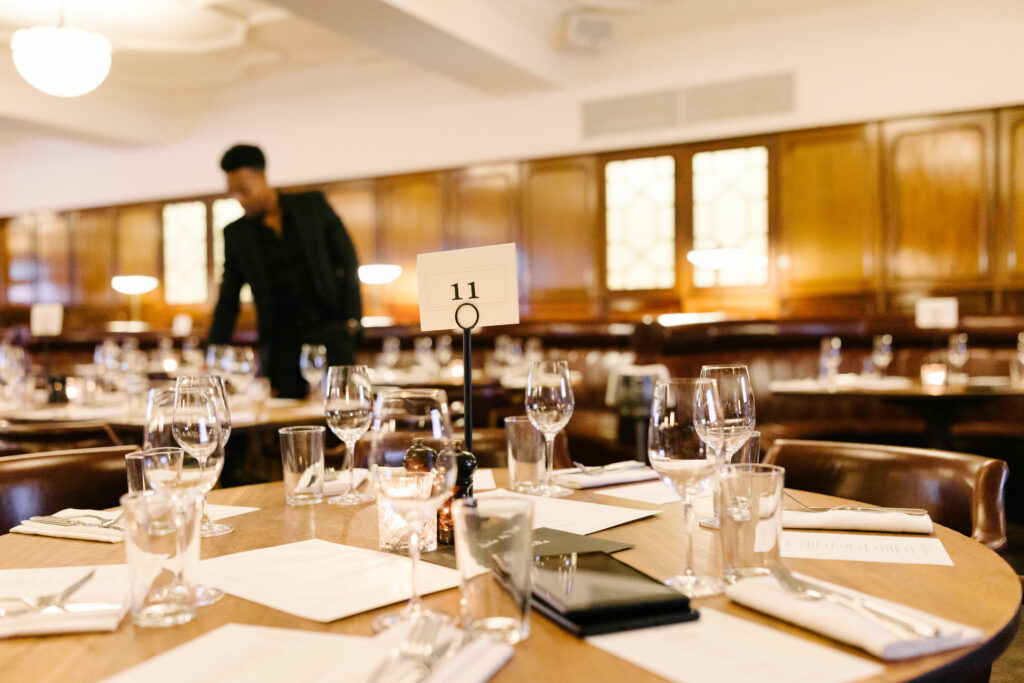 Over the years, many of our friends in hospitality have come together to put on one of the best evenings of the year in aid of Action Against Hunger – this year, our very own Matt Brown is cooking alongside Angela Hartnett, Mitch Tonks and Skye Gyngell.
This year, the support from the industry has been overwhelming – we have never put together such an incredible range of prizes, most of them from the world of hospitality.
Want to stay in Jose Pizarro's idyllic clifftop home in Spain, or visit Panzano, a charming Tuscan hilltop village, and meet the hometown of the Netflix Chef's Table star Dario Cecchini, the world-renowned butcher-chef-poet-philosopher?
Want a pint or three of Guinness, a three-course meal and a tour from Oisín Rogers when his new and much-anticipated pub, The Devonshire, opens this Autumn?
Do you want to be pampered at Babington House? Stay at Nathan Outlaw's in Cornwall? Play golf at Gleneagles? Stay at the high-end Stafford in London?
Perhaps you crave meals at Tom Kerridge's restaurant, or a tasting menu at Gymkhana, or a Pie Masterclass with 5 of your closest mates with the King of Pie himself – Calum Franklin.
Or maybe you are the kind of sophisticated drinker who would enjoy a Sherry Masterclass with Jose Etura from Sabor or would love to own rare Glenmorangie Grand Vintage whiskies from 1997 or (and!) 1998.
Well, it's the tip-of-the-iceberg in the greatest auction we've ever put together. However, if you are the kind of bob vivant who would like to spend a few days in Venice with Russell Norman or swan around at the annual St John Fete du Vin in Minervois with co-founder and CEO of St JOHN Trevor Gulliver. If you'd love a personal consultation with Noble Rot co-founders Dan Keeling and Mark Andrew to choose six bottles of wine for Christmas Day from their cellars?] or maybe you're a Hawksmoor super fan and want to travel around the UK and Ireland eating in our restaurants in Edinburgh, Liverpool, Manchester & Dublin, as well as staying in top hotels, visiting distilleries, other restaurants and much more. The tickets are almost sold out now, but you can check availability.
There is one more special bid you can make … to become an Associate Member of the George Society and make your name (literally) a gilded part of Hawksmoor history.
The George Society was inspired by a little boy we met in rural Liberia named George. A happy, funny three-year-old who brought home how quickly and cheaply lives can be saved. A few weeks earlier, he'd been on the brink of starvation.
For a one-off donation to Action Against Hunger of £504, the amount it costs to save 12 children like George, your name will be written up for posterity in gold foil on the wall of Hawksmoor Guildhall, the spiritual home of the George Society.
Ticket sales alone have already pushed us over one million pounds raised for Action Against Hunger and their crucial work around the world from this event alone. With your help, we hope this could be one of the highest totals ever. Thank you in advance for all your help, and thank you so much to everyone who has supported the event this year and in the past!
Event info:
When: Saturday 9th September at 6 pm
Where: Hawksmoor Guildhall – 10 Basinghall Street London EC2V 5BQ
Menu here
Meet the Chefs here
Special thanks to our Sponsors
Pulenta Estate
Mendoza-based Pulenta Estate was founded in 2002 by brothers Hugo and Eduardo Pulenta, fourth-generation winemakers, with the vision of translating the legacy of the family and their father´s pioneering spirit into a modern, innovative winery focused on producing limited quantities of great wines. They have quickly carved out a reputation for precise, elegant wines across a range of varieties and premium price points.
Angelo Antonio Polenta emigrated from Italy to Mendoza in 1902 and soon changed his name to the Argentine Pulenta. He bought his first land in 1914, on which he built a small winery and established the family company, Peñaflor. Over several decades, Peñaflor grew to become one of the largest Argentinian wine producers, and was eventually sold by the family in 1997. In 2001, grandsons Hugo and Eduardo Pulenta decided to revive their family name by establishing their own winery. Pulenta Estate is the result of this passion project, with the first vintage produced in 2002.
The winery is in Agrelo, south of the town of Mendoza, where the vineyards incline towards the mountains and are considered to have some of the region's most desirable terroir. Their 135 hectares of vineyards enjoy perfect climatic conditions at an altitude of 980m, with melting ice from the Andes providing a natural irrigation supply. All the wines are deftly made by winemaker Javier Loforte using sustainable winemaking practices. To this end, Pulenta Estate is dedicated to good agricultural practices certified by Global GAP, and holds the Certificate of Wine Self-Sustainability from Bodegas de Argentina. The signature style of Pulenta is built on finesse, silky texture and elegant fruit character, while displaying the typical power and depth of fruit that is expected of Argentinian wines.