The women of Hawksmoor. They make our restaurants better. As part of our International Women's Day celebrations, we asked a few of them to share their Hawksmoor story. In a word? Inspiring.
But don't take our word for it…
Louisa Richards, Assistant Restaurant Director
Been at Hawksmoor nine years
Favourite dish is rib-eye steak, with a caesar salad
Not only has Louisa built a solid career as our new Assistant Restaurant Director, she's done so much along the way: bringing Hawksmoor to two other cities, while being a role model and champion for other women in the business.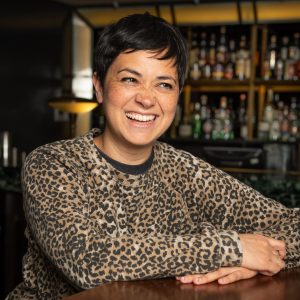 I was ready to leave the industry
Tired of working lots of hours, I'd grown resentful. But then I was asked to interview for Hawksmoor's assistant GM role at Spitalfields. I'd heard lots of positive things about them – specifically, that they were a lovely company to work for. Anyway, I got the job.
I couldn't believe it: everyone was actually nice and seemed happy in their jobs. I was then asked to open and run the Manchester site and then did the same in Edinburgh. Eventually, I came back to London to run Air Street, Hawksmoor's busiest site.
It's been great to be given the opportunity to show what I can do, what I'm capable of – and being supported along the way. Working at Hawksmoor as a female has been great. I've never felt separate from my male colleagues. I'm allowed to have my voice.
Edinburgh was a difficult opening
You can feel quite isolated when you're that far away from base. But when I needed support, people were sent up from London – chefs, managers, bar managers. A lot of attention was paid to my welfare too. There were a lot of check-ins!
I remember when our owner Will paid for me to fly back to London to see my boyfriend and for us to have a big lunch – just as a thank you. You'd never get that anywhere else. Not then, anyway.
I've noticed that women can self-sabotage – as opposed to the men, who are full of confidence and really happy to ask for pay rises. We talk about this sort of thing a lot at Hawksmoor: challenging stereotypes and overcoming them.
For International Women's Day, Sophia, our head of HR, is hosting another session about women's safety. We talk about it a lot at site level, too. From getting home safe to banter – what is and isn't acceptable. That's what I like most about Hawksmoor: being able to start important conversations and simply saying, "Let's be equal!"
Lauren Hoey, Head Sommelier In New York
Been at Hawksmoor seven months
Favourite dish is sirloin steak, with a caesar salad
Lauren has been at Hawksmoor New York since it opened last year. She's leading our NYC wine programme, with lots of progressive ideas. We like to break away from the stereotype of a sommelier and Lauren is doing a great job of exactly that.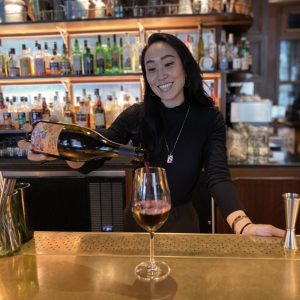 The chance to be creative
The pandemic turned things upside down. My old restaurant closed down, so I worked at a winery on harvest and then at an auction house. But nothing compares to the buzz of working in restaurants, so when I found this role at Hawksmoor I was excited.
It was a new position for me. I've never been involved in the creative aspect of wine, curating lists and making wine programmes. That's what piqued my interest. From what I'd read, Hawksmoor treated their employees really well and that's important too.
It's been a whirlwind. Opening a restaurant during a pandemic; being in a completely new role. My personal progress has felt immense. Beyond getting used to serving again, it's the responsibility of building the cellar, meeting the reps and budgeting.
This has been made possible because of the good communication between departments. It really feels of value here. Encouraging respect is something they definitely prioritise.
Being taken seriously
As a woman, in an industry (wine) that is very white male dominated, I've been dismissed a lot. As in, my ability and knowledge. So just being heard, seen and recognised has been a huge thing for me – a real confidence booster.
It's so simple: I say something like, "I need this for the wine programme," and they say, "Absolutely, we'll buy it for you." They recognise what I say as important. That may seem like a basic thing, but I no longer have to repeat myself to get a point across.
Hawksmoor has my back in a lot of ways. If I say I want a day off, they understand. They won't make me feel guilty if I'm not feeling well or I have a rare chance to meet a family member. "Sure, we'll make it work," is what I get back.
I work with a very diverse team, all from different backgrounds, which helps us to expand and push boundaries. And, perhaps most importantly, to take guests out of their comfort zones, while still really enjoying their experience.
For any women out there looking to work in wine, I'd say: try to surround yourself with supportive people. It's easy to get caught up in toxic environments, but it's vital to your success to stay away from that. If something doesn't feel right, trust your instinct!
Razia Tasnim, HR and Payroll Assistant
Been at Hawksmoor six months
Favourite dish is sirloin steak with triple-cooked chips
Razia started last year through our kickstarter programme and now works on our support office people team (HR). She hadn't even thought about hospitality before coming to Hawksmoor, but is already proving to be a valuable member of the team.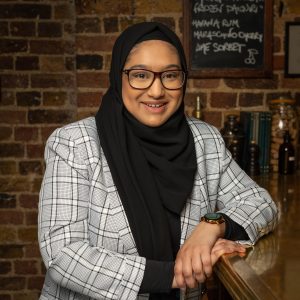 I had no idea who Hawksmoor were
I met the team at a jobs fair. To begin with, they didn't publicise their name. But I had a great conversation with them and then went away to research the company properly. I was so pleased with what I found: they catfished me – but in a good way!
Following an interview, I was invited to go on their Kickstarter programme. The deal was that they train me up for six months – and then the contract was supposed to end. But they liked me and I really liked them, so I'm still here!
It was such a nice introduction to the hospitality world. From the restaurant, right up to the support team in the office, it's a good, consistent standard of care. This then has an effect on the service, the people and the working culture. It feels very healthy.
Paulina, my manager, is a busy woman. But she took the time to explain things to me, step by step, no matter how many times I'd ask. I'd never worked with Excel before and she has really helped me to develop my skills quickly.
Taking a walk in the middle of the day
The work-life balance is great. Your well-being is put first. If you need a little bit of time away from the computer, there's the support in place to recuperate. I've actually never needed to take any days off, but it's great to know they're there.
It's a difficult thing to properly explain, but you know that feeling that some people have about dreading going to work? I have the opposite. I feel happy and content. I'm enjoying learning new skills and exploring them.
As a young woman – of colour, especially – you want to know if you're going to be welcome. It's so refreshing for that to happen and be treated as an equal. I can be myself, feel safe and be on an equal footing with my colleagues.
I remember a couple of weeks in and I was talking to Ceri, one of our directors. I was having a 30-minute conversation about myself! And that was fine. History is a big love of mine, so we were talking about that. Don't get me started on the Weimar Republic!
Clara Rubin, Group Wine Manager
Been at Hawksmoor two months
Favourite dish is beef carpaccio – or the oysters
She's not been here long, but we're already feeling the positive impact of Clara's involvement here in the UK as group wine manager. Lots of progressive ideas and expertise – particularly in training – that's going to take our wine to the next level.
I saw it and thought, "That's my job!"
It was a seriously comprehensive interview process. But when I saw the job come up it combined all things I adore, from procurement and product placement to training and development. I've never prepared so hard in my life!
I remember thinking that I really liked how they manage to combine being very professional and organised, but then casual at the same time. There's a whole attitude of not bragging here that I like too: "I'm going to do what I do and you'll see…"
When I talk about my job with other people, I feel like it must sound like I've joined a cult. Having worked at so many hospitality-based businesses, I can say that Hawksmoor is genuinely different.
Misogyny is not acceptable – it's not even unofficially joked about. Also, things feel very meritocratic. If you're good at what you do and you work hard then, well, that's it. I've already felt that in my short time here.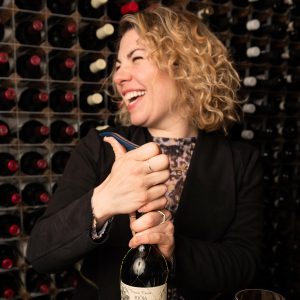 I had no idea what a sommelier was…
I don't think anyone ever grows up saying, "One day I'll be a sommelier!" So, to be in a position where I now get to talk with our nine wine managers about wine, food and fantastic experiences all the time…
To then be able to go around and sniff out all of these different drinks and say to them, "Here, I've found you the things that are going to help you do your job." It's a pretty great role to be honest. Particularly after the few years we've had.
I love that wine is essentially about human connection. To my mind, the best job in the restaurant is that of the sommelier: to be able to talk to customers about what they're smelling and tasting. What could be better than that?
Julia Buchalska, General Manager at Hawksmoor Spitalfields
Been at Hawksmoor 11 years
Favourite dish is the monkfish, with mashed potato
Julia runs Spitalfields. She's been with us a long time and has progressed from front of house to GM. She's had a tough few years outside of work, but we've been able to work with her to make sure her needs are met, while she continues to do an amazing job.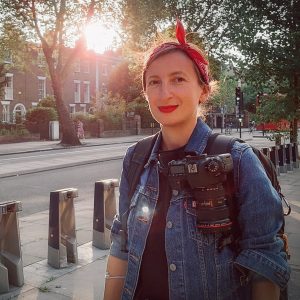 It's a weird one…
…but I've never really thought about being treated differently as a woman at Hawksmoor. I've always had a lot of support and I've felt I can speak openly about issues I've had either in or outside of work. I guess I know I'll be listened to.
I'm from Poland and a few years ago my mum passed away. I have a sister with Down's Syndrome and my mum was the only carer. I had to rearrange my life and I was quite scared – in hospitality the hours can be pretty inconvenient.
Hawksmoor was amazing, helping me to adjust to my new circumstances. I had a set rota to start with, so I could look after my sister. It was never really too much of a problem for them. I felt I could ask for help.
I started as a waitress
It didn't take long for me to get promoted to head waitress, before moving over to Air Street to become assistant restaurant manager. And then, during those difficult times, I was still able to progress.
I was promoted shortly after losing my mother. I was able to continue working because I felt supported. Basically, I could speak to my managers. They're very encouraging about sharing your troubles. It's OK to feel vulnerable.
I graduated from university in Poland and I remember my family were funny about me working in hospitality. But I showed them it's a career; something I can be proud of. For women who aren't sure about hospitality, it can be really rewarding – at the right place!
Lucia Gregusova, Head Chef at Edinburgh
Been at Hawksmoor three years
Favourite dish is the pork belly ribs, with 'slaw
During lockdown, Lucia volunteered for the Empty Kitchens, Full Hearts charity. She cooked and distributed food to homeless people. Besides that, she's helped to navigate us through tough times in Edinburgh. We couldn't have done it without her.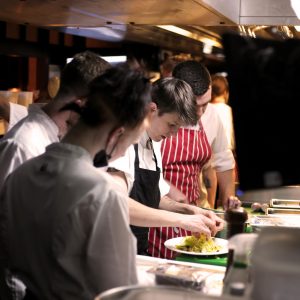 It took me about 6-8 months…
… to get my head around everything. Opening a new restaurant is always a challenge. Also, this was the first time I'd worked with such a big team. Being allowed to be myself was important. It helped me to really get my kitchen team organised.
This idea of being yourself is important to me. If you have to go to work and pretend to be someone else, I don't think you can give your best. The real 'you' can perform much better. If others can see that, then it's a recipe for success.
For me, it's all about showing your weaknesses. Often people are reluctant, but if you do it helps. Show people you're human and then they have the permission to do the same. There are always issues; it's about how we untangle them.
I wanted to prove myself
When I started in Edinburgh I had a fantastic manager called Louisa. She was a great inspiration to show me that it's possible for women to 'achieve'.
I think I'm the only female head chef in Hawksmoor at the moment, so starting here was even more challenging because I put pressure on myself to prove that I could do the job. Hawksmoor really believed in me and that kept me going.
The difference working here is that the people are great. You can be the best chef in the world, but if the team isn't there to support you then it doesn't really matter.
After last year, we went through a lot of changes and were down on staff. This really began to bite in December – it was so busy. Our general manager and assistant general manager put on their whites and cooked with us. That's teamwork!