What do a secluded woodland in the Lincolnshire countryside, and a 19th-century dockyard in East London have in common? They're both places where you may have spotted Hawksmoor over the last couple of months.  
Two very different events that we've been involved in for the past couple of years – Lost Village festival and Meatopia – took place over consecutive weekends this year, and Hawksmoor were at the heart of them both.  
I'm Alex, the Restaurant Marketing Manager for Hawksmoor, and I've worked here since January 2020 in a variety of different roles over the last two years, including heading up the customer support and eventually operations for Hawksmoor at Home (R.I.P). 
Lost Village
A four-day festival with a difference located in an abandoned forest in Lincolnshire.  Hawksmoor has been headlining the Sunday feast at their Tribal Banquet for the past five years, and this year was one of the best yet.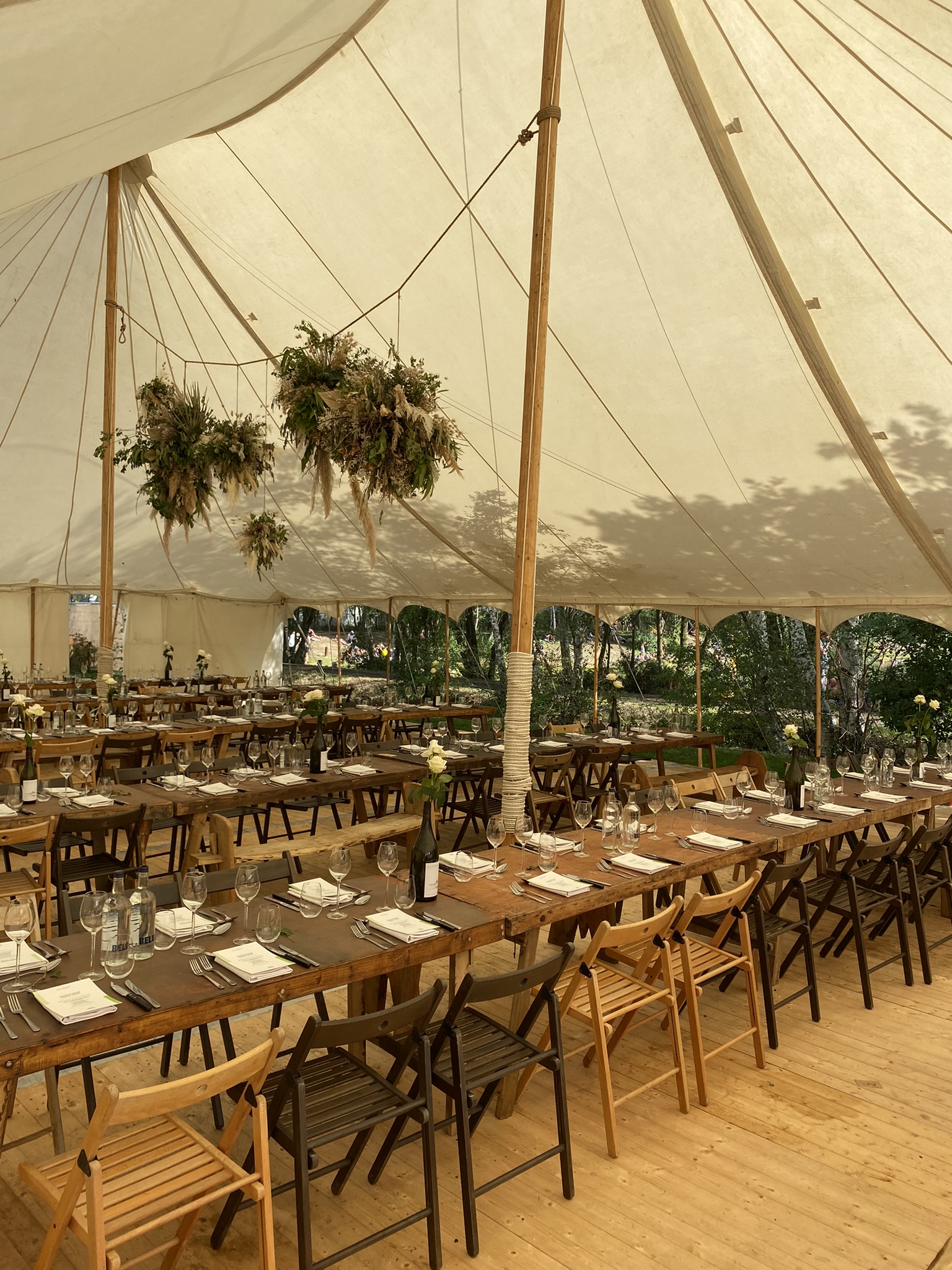 The 140-seat feasting tent, set on the banks of a picturesque lake, was filled with festival revellers for two sold-out sessions.  Our team of chefs were on site from 7 am and the kitchen was a hive of activity prepping for a three-course menu of Radish and goat's curd salad, followed by a Hawksmoor roast with all the trimmings and finished off with a classic Sticky Toffee Pudding.   
At midday, we were descended on by our first wave of diners ready for the perfect hangover cure.  After a sparkling reception, and a quick welcome speech from yours truly, the feast was in full flow.  Following the radish salad starter, we were on to sharing boards of Sunday roast – Hawksmoor 35 day-aged rump, with Yorkshire puddings, beef dripping roast potatoes, roast carrots, buttered greens, cauliflower cheese and lashings of bone marrow gravy.  All washed down with wines from Cloudy Bay.  Once the first sitting was fuelled and ready for the rest of their day at the festival, we reset the tent (in less than an hour) and it was onto our second sitting of 140 guests.  The slightly rowdier later crowd greeted the team with thunderous applause as I introduced Hawksmoor and the feast (with one very happy diner just shouting 'BEEF' continually in the background).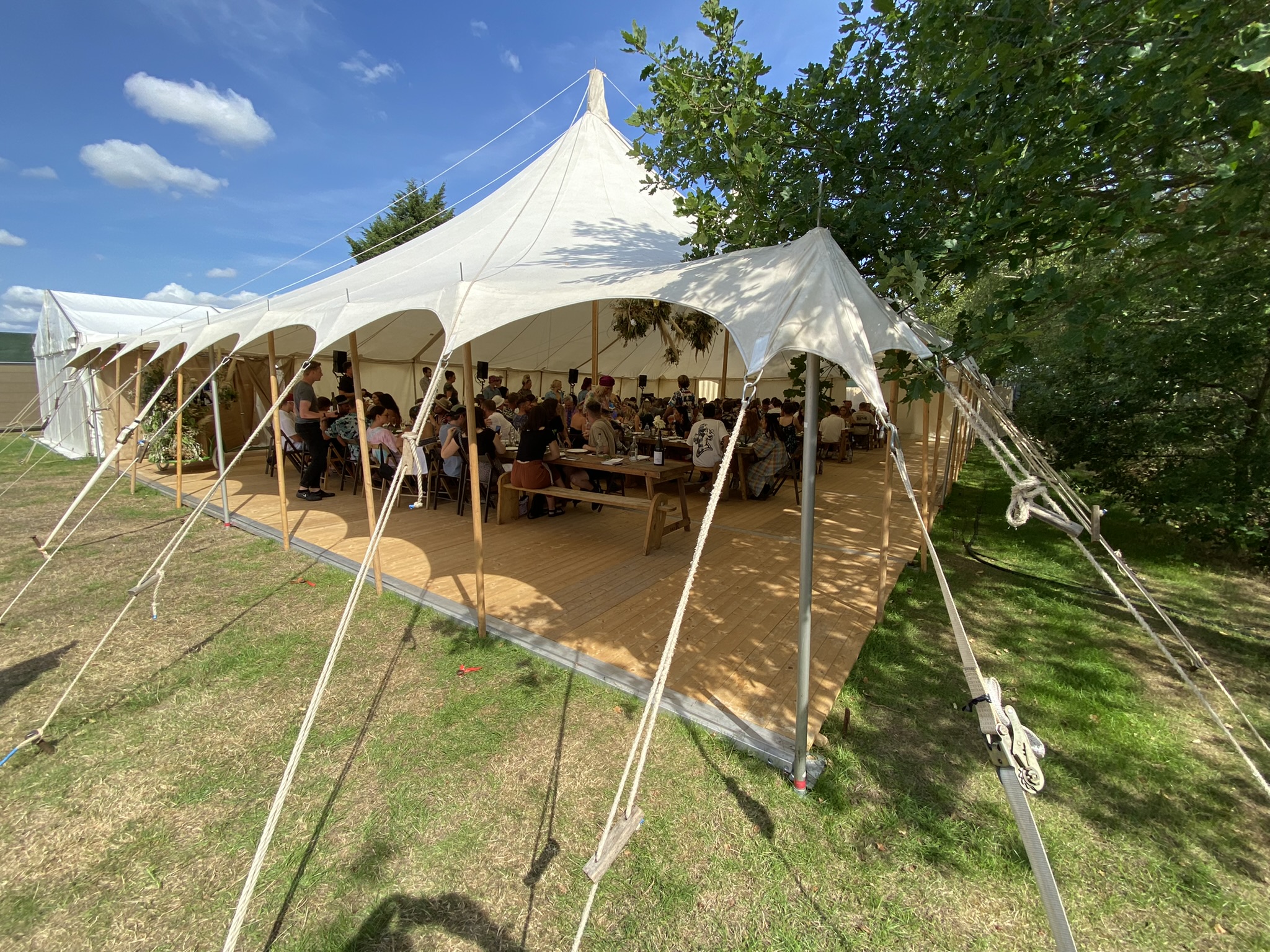 280 very happy festivalgoers later at 6 pm we were finished for the day and off to the pub for a pint to celebrate a job well done!  
Meatopia
Sorry, this one's not for any vegans and vegetarians out there (the clue's in the title). This year, we returned to the iconic Tobacco Dock in Shadwell – its timber frame and brick vaults serving as the perfect backdrop to this celebration of meat in all its various forms.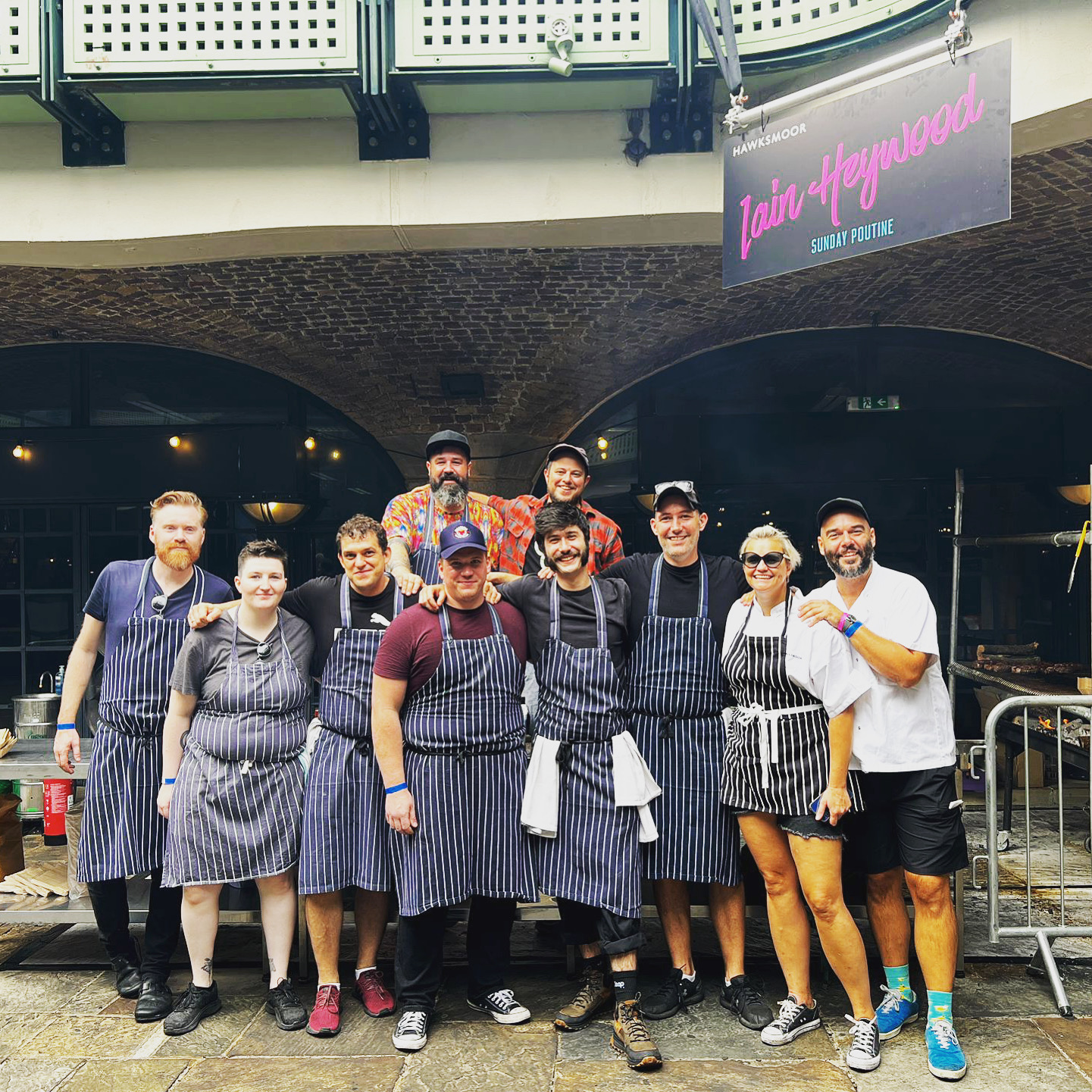 Smoke was billowing from every corner, as vendors fired up their grills for three days of carnal delights. Led by Captain Kath of HM Wood Wharf (who's been running the front of house for us at this event for the last 5 years, and often refers to it as 'Kath's Christmas') and featuring three of our hottest chefs (Phil Branch, Bogdan Galaction & Iain Heywood) over the three days, we served up over 3,200 dishes to the hungry punters trawling the halls.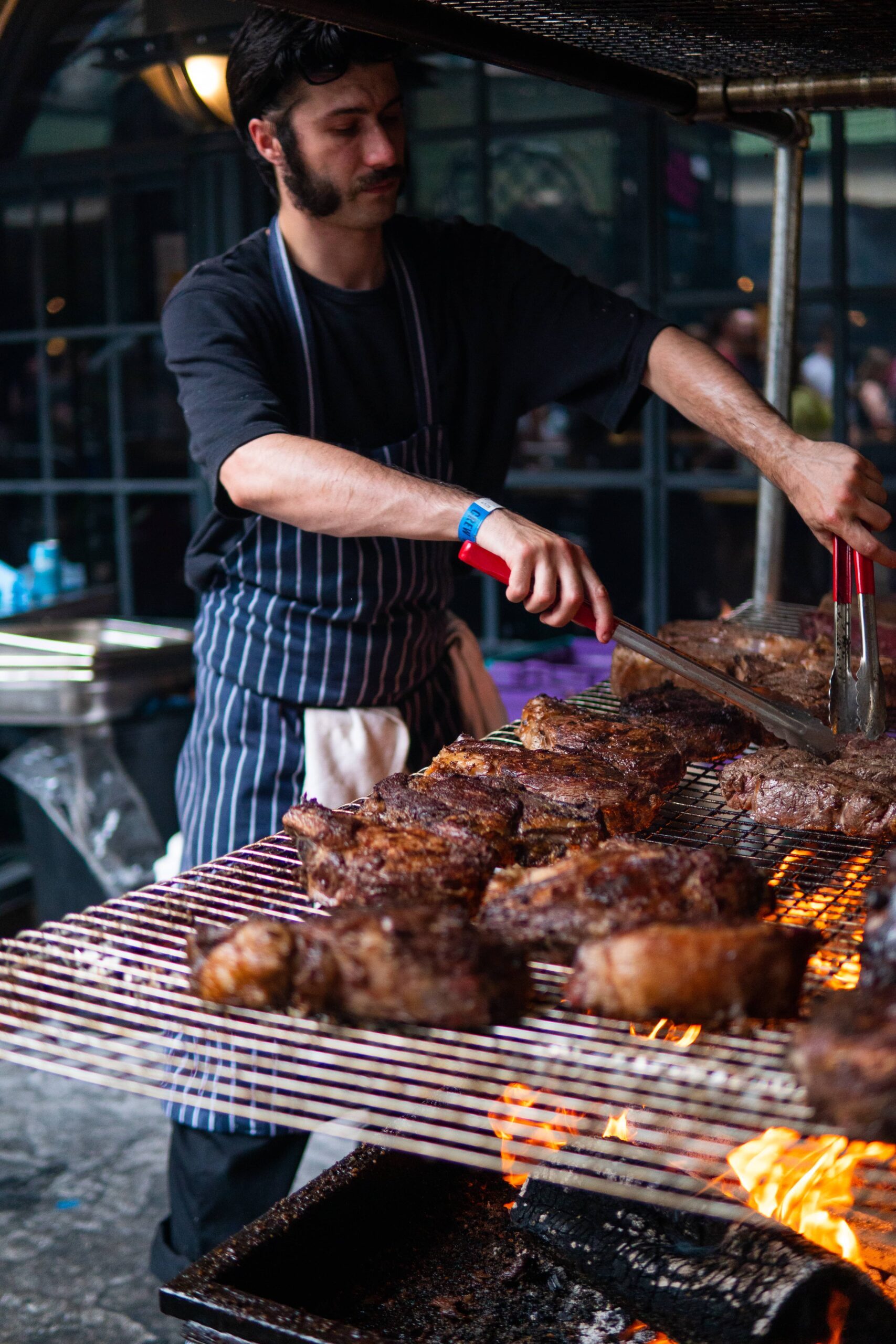 Friday saw Bogdan, Senior Sous Chef at Wood Wharf, take the reigns as he led the charge with his Reuben Burger – Beef and bone marrow patty topped with salt beef, sauerkraut brisket, Ogleshield cheese and all topped with lashings of 1000 island dressing.   
On Saturday, our Group Head Chef, Phil, stepped up to the plate and knocked it out of the park with a Steak and Onion Flatbread – Seared native breed beef, served with ember charred onions on flatbread with a charcoal cream and wild mushroom oil.   
Finally, it was down to Iain, Head Chef at Hawksmoor Guildhall, to bring the bacon (beef) home with his 'Sunday Poutine' – Native breed beef on crushed roast potatoes, topped with oozing Ogleshield cheese and smothered in bone marrow gravy.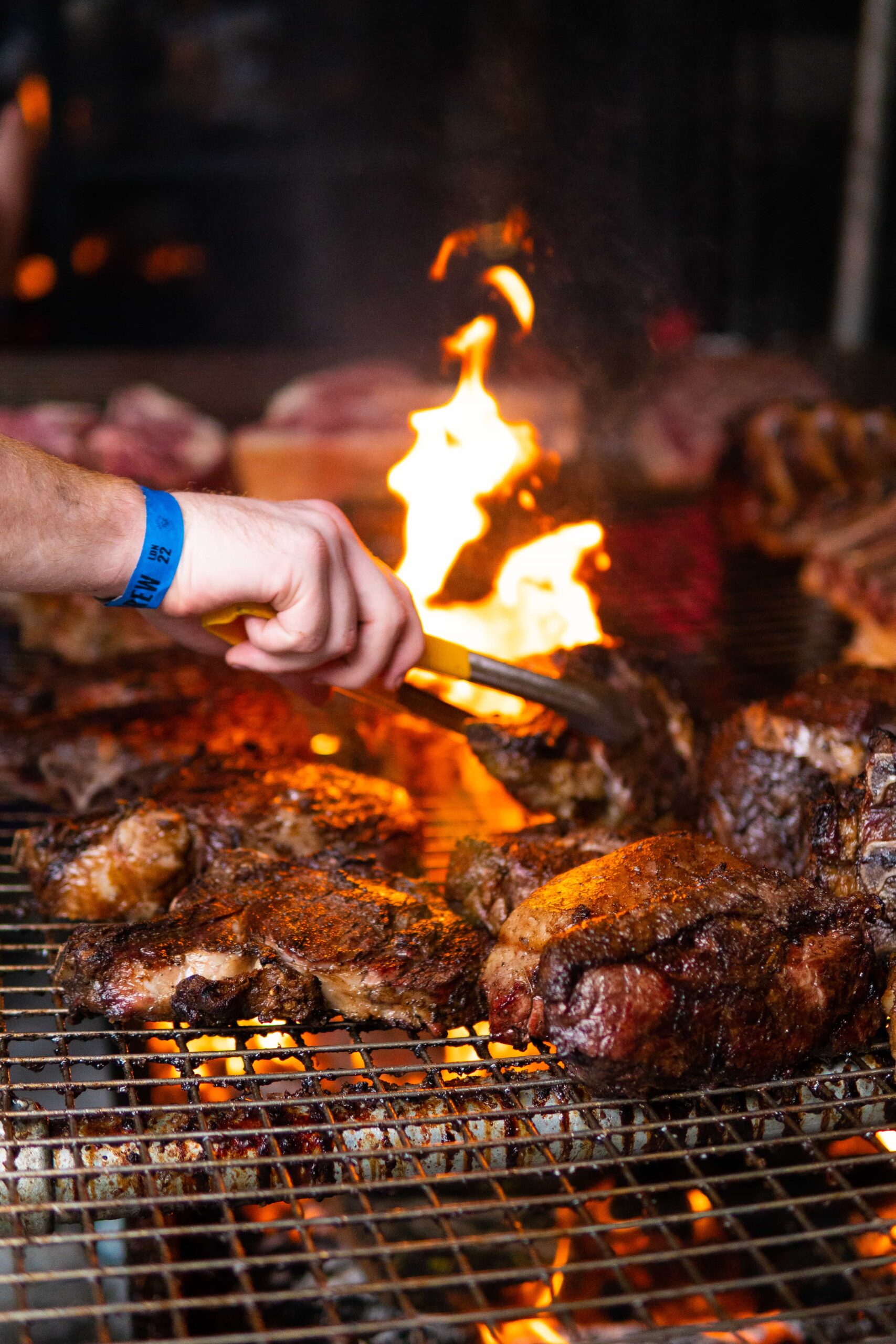 I'm getting hungry just writing it! 
What struck me most from both of these, very different, events were how much the Hawksmoor team enjoyed being there and hosting something outside of their usual restaurants.  The energy at these events is really palpable and it's all fuelled by passion for what they do, regardless of the backdrop.