You may or may not have heard we've recently been certified as B Corp. This means that we're now one in a thousand UK businesses working collectively to transform the economic system. Put simply, it means we're part of the movement working together for people and the planet – who are trying to run themselves for more than just profit. And, for our founders, it's one of their proudest achievements. 
"We've always wanted Hawksmoor to be about more than the bottom line. It's never been more important, I think, to make sure that wellbeing is at the heart of everyone's way of thinking about their teams." Will & Huw, Co-Founders 
It's been a few months since we became a B Corp, so we wanted to update you on some of the exciting projects and charity partners we've been working with this year.  
£75,000 Raised for Fuel for Success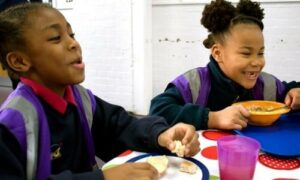 Magic Breakfast has been a long-term partner of ours. They work with 200,000 children in more than 1,000 schools around the UK to provide them with a healthy, nutritious breakfast to fuel their learning.
For 28p Magic Breakfast can give a child a healthy breakfast and expert support to their school, opening up hours of crucial lesson time in the morning. In the 6 months March-August 2020, the Food Foundation reported that 2.3 million children were living in households that had experienced food insecurity.
Independent research, funded by the Education Endowment Foundation and carried out by the Institute for Fiscal Studies, found that Y2 pupils in schools providing a free, nutritious 'magic' breakfast boosted their reading, writing and maths by an average of 2 months' progress per year, compared to pupils in schools with no such breakfast provision.
We're extremely proud to support this amazing organisation and grateful to you for everything you've done to make the Fuel for Success campaign a total success here at Hawksmoor. By adding an optional £1 to your bill between May and June 2022 in all UK restaurants, together we've raised £75,000 for Magic Breakfast.
Edinburgh Team Day at Cyrenians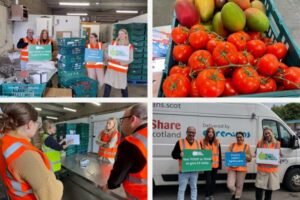 "…Hawksmoor have partnered with Cyrenians to help tackle the causes and consequences of homelessness, launching the partnership with a corporate volunteering shift at the Cyrenians." Good Food Depot
Cyrenians Depot distributes the equivalent of over 20,000 meals each week to Edinburgh's local community. Their work is crucial to tackling the consequences and causes of homelessness. Their outreach is extensive and has a real tangible impact across Edinburgh.
We're working with Cyrenians to develop exciting ways to increase opportunities and support for the local community. This includes building a range of opportunities to expand the Cyrenians food education and skills development programmes, using our local facilities and expertise.
In May some of our Edinburgh team got an up-close look at the community and vital support provided by Cyrenians' services in two staff volunteering days, where the team helped to fulfil orders to be sent out to local community food groups and pantries.
You are also helping us to raise money for Cyrenians every time you order Chocolate Anglaise 50p will go to support Cyrenians' work in Edinburgh and beyond.
£50,000 Raised for Love Food, Give Food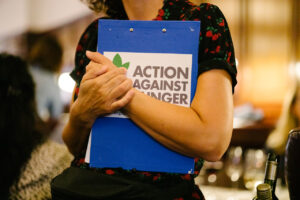 Continuing on from the success of our Annual Charity Dinner, held in September and Magic Breakfast fundraising in the summer, we added an optional £1 to each restaurant bill throughout September and October to donate to Action Against Hunger. This is part of a campaign called Love Food Give Food, which raises money for its incredible work feeding people who need it most in 46 countries across the globe.  
This year the total raised was over £50,000, which is three times the total for last year. So, again we owe you a huge thank you for helping us reach this total. 
We're immensely proud to have worked with Action Against Hunger over the last 9 years and have donated over £1.5 million to the charity to date. Your contributions will help save the lives of malnourished children in the world's most remote places and support their families to beat hunger.
Billion Oyster Project Team Visit

Our NYC team recently took a tour to Governor's Island – not to see the Statue of Liberty or take a cheeky ferry ride – but to learn more about the New York Harbor and Billion Oyster Project's efforts to restore one billion oysters to the harbour by 2035. A huge task but, also an essential one as oyster reefs provide a habitat for hundreds of species and can protect our city from storm damage.
Thousands of oyster shells from Hawksmoor are donated each week to help recreate a rich, diverse and abundant estuary. The team came back energized, informed and with a slew of fun facts like that the Big Apple was initially called the Big Oyster.
Introducing Our New Liverpool Partner: Feeding Liverpool
We're currently busy gearing up to open our doors on November 24th at our newest restaurant Hawksmoor Liverpool. And, with all our new restaurants it is really important to us that we are able to create special moments not only for the people who come and eat with us but also for the community we live and work in. So, we are proud to announce our Liverpool charity partner as Feeding Liverpool, a local food alliance, set up in 2015 to tackle hunger and food insecurity by identifying the root causes of poverty. We have pledged a £10,000 initial contribution and will follow this with contributions from menu items and ongoing fundraising.
Mince Pies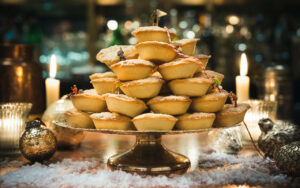 We will be selling Mince Pies at all Hawksmoor's from 28th November, with 50p from each sold going to our local charity partners. To learn more about our local charity partner where you are visit our purpose page.