0 Carbon Positive/Net Zero Farming
Recently, a journalist emailed: does Rishi rowing back on Net Zero targets have any impact on what Hawksmoor is doing in this area?  
Our answer … err, no!  
While this appears to have become something of a hot topic in the (to our mind quite draining) culture wars, it's something we believe in and feel we have a responsibility to do well. We don't do it to be in tune with government targets. We don't even do it because customers want it (some do, some don't, although hopefully, all will agree that caring deeply about the work we do is a big part of the reason you like Hawksmoor in the first place and a pretty good guarantee of us caring about the food on your plate); we just think it's how we should run our business.  
One area we're working hard at behind the scenes is with farms. Last month, we visited an idyllic carbon-positive farm in Yorkshire to learn about their work. If we ever make it sound like we (or you) are leading farmers towards Net Zero, not a bit of it … there are so many wonderful farmers out there who are as obsessed with their roles as custodians of the land as they are with ethically rearing animals. We are lucky to work with them.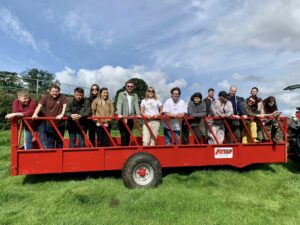 1.1m Raised for Action Against Hunger
On a final note, last month's charity dinner at Guildhall raised £126,000 on the night, taking the total over the 11 years we've held it to over £1.1m. One key stat from last weekend that stuck with us was that the night's fundraising could help Action Against Hunger save the lives of 3,000 children – a reminder of the scale of the need and the impact your support can have. On behalf of Action Against Hunger and from Hawksmoor … thank you.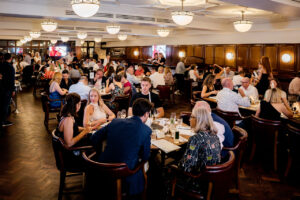 2 Years of Renewable Energy
We've been powered by renewables in the UK for two years, but as of September, our NYC and Dublin restaurants have also joined the green power revolution, meaning that every single one of our restaurants are now powered by sun, wind and hydro.  
Not only that, but we've also partnered with a wind farm off the coast of Yorkshire for our UK energy, which means we're investing directly in the development of new clean electricity. 
3* Sustainable Restaurant Certification
This month, we celebrate recertifying as a (maximum) 3* certification with the Sustainable Restaurant Association. In fact, Hawksmoor was a founding member of the SRA in 2012, when we also got our 3 stars, making us the ONLY restaurant to have achieved 3 stars for over a decade. So, we thought you might like to hear a little update on the work we've been doing since our last Impact Report, particularly around the environment.