What sounds like a shaky start to an even shakier joke, is in fact an affair taken very seriously at Hawksmoor – the return of the annual staff trip to Brixham. Tucked away below the green hills of South Devon and centered around a stunningly beautiful harbourside, the town is home to our fish supplier Brixham Seafish, leaders in seasonal and sustainable fish.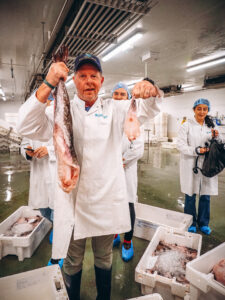 On a sunny-come-downpour morning, we watched the daily catch come off the boats and straight into the market perched on the harbour (inhabited by Sammie The Harbour Seal). Every day Noel (seafood aficionado) selects the best fish and seafood for us, ensuring delicious quality with minimal processing and 100% traceability.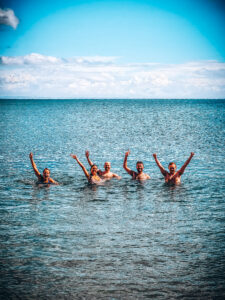 But it's not all about fish. Hawksmoor staff trips bring our teams from different areas of the business to immerse in the foundations of what makes Hawksmoor Hawksmoor, to bond and experience what we enjoy the most – exemplary hospitality – together. So, there was seafood, delicious seafood and plenty of it – and perhaps a drink or two – accompanied by a very competitive game of Fives (some of us are yet to figure it out…), making fast friends with some locals (one of which will forever be fondly remembered as "Scissors" – yet another Fives misunderstanding), all rounded off by a refreshing dip in the Torbay. Thirty six hours felt like a week (in all the best ways) and we came away knowing each other that little bit better and breathing the Hawksmoor spirit deeper. In that way Rockfish share a similar attitude with us – a happy go lucky culture, but we work hard and get stuff done.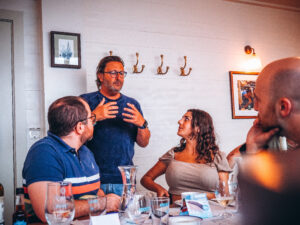 We also had the pleasure to meet Mitch Tonks, who's not only the mastermind behind our seafood at Hawksmoor, but also Rockfish restaurant in Brixham and the brilliant Seahorse restaurant in Dartmouth. He has also been recently named the "Group Restaurateur of The Year" at The Cateys, for his "incredible impact on the livelihoods of fishermen across the South West". Mitch and Rockfish have helped us navigate the complex world of sustainable seafood from the very beginning and shown us that much like beef, cooking fish this fresh is all about quality product and simple, classic cooking. Congratulations and very well deserved, Mitch.
On that note, congratulations are also in order to everyone who graduated from the Hawksmoor Brixham Trip Academy with straight As – here's what we learned on the trip (aside from the fact that "lobster pink" is NOT actual lobster):
Q. What effect does spawning season have on the fish market?
A. LOADS!! Both on a sustainability and quality of produce level.
Brixham Seafish have a hugely commendable and incredibly reassuring approach towards sustainable fishing and having as little impact on the environment as possible. A big part of that is allowing fish to 'do their thing' in mating season by avoiding areas where this may be happening.
It's not just the lovin' though – spawning season sees the quality of the fish dropping too. When fish egg sacks enlarge and stretch, they stretch the flesh, diminishing quality and tenderness, taking up a lot of nutrients that would naturally enhance the flavour and quality of the fish.
Q. What is the inspiration behind the Seahorse herb mix?
A. Mitch likes Mediterranean influence and when he visited Italy he noticed they marinate a lot of fish in lemon or vinegar and olive oil for half an hour before grilling over fire. He had an idea of adding breadcrumbs to it and a few herbs for flavour to soak it up. He's used it ever since and so do we.
Q. Did Brexit have an effect on the fishing operations in Brixham, and if yes, what?
A. Alongside prices increases, there is the growing challenge of finding staff. To get ahead of the staffing issues, Rockfish raised the salaries of their amazing employees, to give them an extra incentive!
Q. Has there been an increase in women working in the fishing industry?
A. The industry is still predominately male workers, especially out on the vessels; but there has been an increase in women recently. One of the women we heard about is Sarah Ready.
Sarah is one of the few women working on commercial fishing vessels – she runs two boats out of Brixham with her husband and son. She's also leading the way on sustainability and creates willow lobster pots called 'Withy pots' to replace the plastic ones used in most operations. She also ensures biodegradable gear and zero single use plastic on her boats.
Q. How far out do the fishing boats go?
A. This is a bit of a tricky question to answer, but it's roughly 12-15 miles out. Firstly, it depends which are being caught as they like to live in different parts of the sea. And, as there are obviously not as many physical boundaries they do tend to move around a bit! Secondly, temperature, currents and time of year also have an effect. It's not always as simple as "go here, catch some fish." That is one reason why availability may change from time to time when you visit Hawksmoor. Every fish we sell is traceable to the boat it's caught on though, so if you really wanted to know, we could tell you!