It was an inauspicious start. A few days after signing a 20-year lease on a failing Turkish restaurant at the wrong end of a traffic-clogged street in East London, a bank loan we desperately needed fell through. On the same day, we discovered that the site didn't actually have planning permission to be a restaurant. A travel agency, hair salon or funeral directors would all be fine, but no hot food could be served on the premises. Our dream of opening a steakhouse celebrating British beef and old-school cocktails was fading rapidly.
Hawksmoor's roots can be traced back a long way. We – Will & Huw – met at the age of 11 and forged a strong friendship over early morning McMuffins (the school bus stop was opposite a McDonalds) and post-school hand-cut chips (the first thing Huw learnt how to cook). It wasn't long before Will was being dragged from the golden arches to fancy restaurants with his food and wine journalist mum and Huw was roped into helping at Berry's, his parent's award-winning café in Church Stretton, Shropshire (go there for tea and cakes). Huw's family have a long history with food; his grandfather was the last in a long line of butchers and his family tree is peppered with Welsh farming folk. Perhaps for both of us doing something in the food and drink industry was inevitable. Hawksmoor was inspired by a memory of how good steak can taste. When we were growing up Huw's dad would cook – oh so occasionally – a steak supper of such beauty it managed to silence a large and unruly family (which by that point included Will in all but name). Those sirloins and rumps would be quickly devoured, all of us only pausing occasionally to wipe bloody juice from lips and chins.
It was a while before we learned that not all steaks are created equal. After years trying to flavour and primal impact of those first carnal delights (the other kind, depressingly for us both, were still quite a long way off), we realised that more often than not they are little more than bland slabs of protein, or, to borrow the words of the illustrious Tom Parker-Bowles, a fellow disappointed steak-eater, 'just another piece of meat…a chewable yawn, a shrug made flesh.'
As budding food-history geeks, we learned that the British have a noble history of beef-eating and that the quality of our beef was once revered around the world. Even the steakhouse, that American icon, wasn't born in New York or Chicago, but right here in London, just around the corner from our Guildhall site. So how was it with steak on the menu at almost every restaurant, so few were worth eating? And, more importantly, what were we going to do about it?
Scared of opening somewhere that needed to charge steak-like prices we decided to cut our teeth on something a little less daunting, in the end taking on a tiny grease-smeared Bengal Fried Chicken joint just off Brick Lane, which turned into a late-night bar and café. A Mexican bar-restaurant and a thoroughly British gastropub followed shortly after, all resulting in (mostly) good reviews, a few awards and a little profit.
The succession of not-particularly-successful bars and restaurants was largely funded by the kind of gung-ho bank lending that would shortly lead to the credit crisis, so it came as a shock when our bank manager finally came to his senses and turned down a loan for the failed Turkish restaurant we had earmarked for our temple to steak. But it was too late to pull out (note to budding entrepreneurs – get the loan first, sign lease second). After more than a few sleepless nights, Huw's parents saved the day by offering to re-mortgage their home (evidence of a pretty spectacular belief that we might finally make things work, considering what had gone before).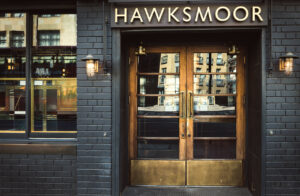 Bad omens kept on coming through. A lawyer-friend managed to resolve the planning issue, but as we were repainting the Turkish restaurant one night during our extremely cheapskate eBay makeover, we were interrupted by the sirens of several police cars. Our landlord, who had the air of an East End gangster, ran a dodgy nightclub in the basement and one of his Russian nights had descended into an epic street brawl. Then, the day before our not-so-grand opening, our head chef disappeared, never to be seen again, which meant that on the big day we couldn't serve food good enough to put our names to. So, we didn't serve food. A bowl of nuts with a gin and tonic or, for the brave, a cocktail or two, was the best we could muster for the handful of bemused locals who dared venture in. Our dream of making life easier for steak-loving Londoners wasn't looking good.
But someone significantly more talented than our wandering chef materialised (thanks Karl!) and we were soon able to fire up the grill. Even more importantly, we had, by then, found beef of such tender, flavoursome goodness, that portents of impending bankruptcy were quickly forgotten. Our first Hawksmoor steak, on 3 July 2006, was so good it made the hairs stand up on the back of our necks. Our luck was changing.
It was a rib-eye cut from the kind of British beef that was once the envy of the world, and it came from a herd of Longhorn cattle in North Yorkshire reared by Tim Wilson. We've enjoyed working with Tim ever since; he is obsessed with the health and happiness of his animals, and is passionate that they become the tastiest meat in the land.
We were also lucky enough to meet Nick Strangeway, a cocktail legend, who surprised us by suggesting that help us run the place. With a single-minded obsession for quality and a genuine concern that everyone who came in had a great time, he helped set the perfect tone from day one. Our fortune continued as more great people decided to join us. There are too many names to mention here, but Tim Gould, Tom Hunt, Nick Harding, Angela Cubillos and Richard Turner have all ben pivotal in making Hawksmoor what it has become. We owe them and many others a massive debt of gratitude.
Once we had the steak sorted we set about trying to make Hawksmoor the best restaurant to work at in London. We thought that if we achieved this (or even got close), then everything else – happy customers, repeat visits, word-of-mouth, maybe even a bit of profit – would follow.
When we opened our scruffy little restaurant in 2006, we told ourselves that there would never be a second. But, as with everything we've done, things didn't quite go to plan. Years on, and we've taken the plunge and opened in New York and are expanding into new cities across the UK.