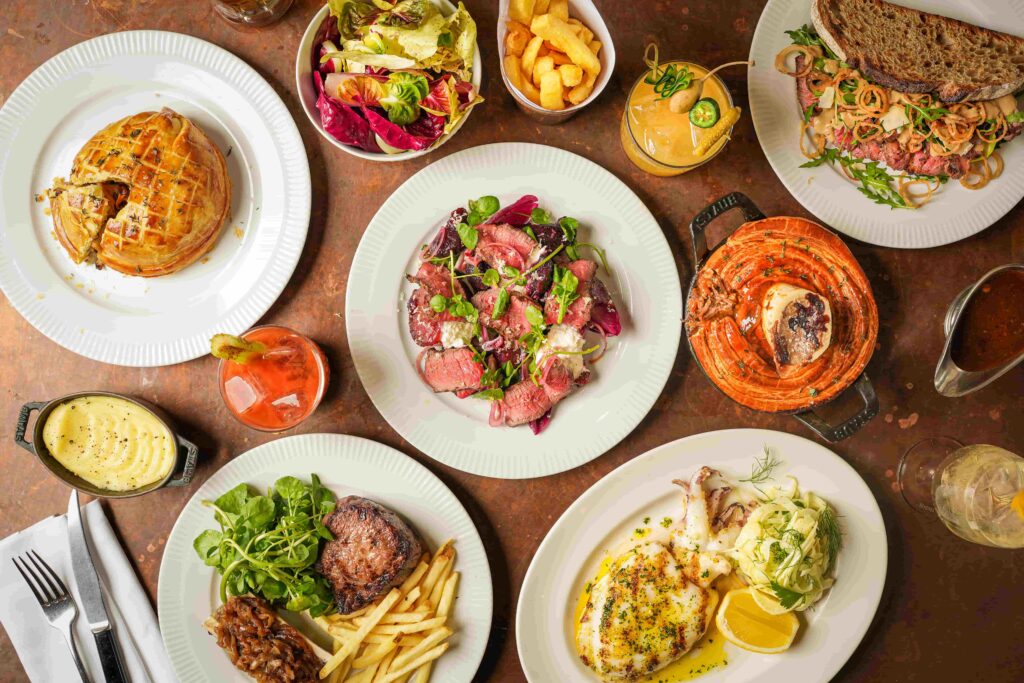 Lunch comes in many forms. The 'three Martini' (we're told ours might just be the "Coldest in the world"); leisurely (we've fuelled a few of those over the years); the grand celebratory luncheon (nothing says 'special' quite like 'steak'). And now we can offer an alternative that embraces the quicker, lighter (and a little more wallet-friendly) affair, without foregoing the stuff that satisfies body and mind. Perfect for those that have something to do at half-past two.
The Steak Sandwich may sound like the simplest of beasts, but not in our Executive Chef, Matt Brown (a former Head Chef of not one, but two restaurants with three Michelin stars)'s hands. After countless iterations, tweaks and ditch-it-and-start-from-scratch-es, we heard a cry of jubilation. Instead of EUREKA!, our Archimedes shouted, PORCINI HOLLANDAISE! And thus, a mere nine years after the Seven Year Steak Sandwich went on the menu at Guildhall, he'd found the (umami-bomb) key to bettering it.
When Matt started hatching plans for an epic Hawksmoor steak pie, the chef-equivalent of the bat signal was sent out to long-time friend of Hawksmoor, Robin Gill. One morning his bakery was left with a glut of croissant dough. What to do? Swirl it up and stick it on a pie, of course. The result of the duo's pie-eyed culinary experimentations? Matt assembled the ultimate combination of dry-aged steak slow-cooked generously with Madeira, topped with a bone-skewered crust inspired by Robin's swirly cro-dough.
But the prize for 'Most Surprising Innovation' must go to the beef-less Winslade Wellington, which isn't really a Wellington at all, but it's as close as you can get whilst forsaking meat. Roasted celeriac, three types of mushrooms, and soft, oozing Winslade cheese encased within burnished pastry, with plenty of the familiarly Wellington-y (and untranslatable) mushroom, shallot and herb 'duxelles'. A vegetarian dish worthy of a grand Hawksmoor feast (or an any-day lunch).
We're also launching a Hawksmoor Steak Frites. Not a lot on our menu is French-inspired, but we do have to congratulate them on their snappy name for a lunch-friendly steak with a pile of fries and a rustle of green.
For our first-ever Steak Salad (so often a disappointing affair) we've ditched green leaves in favour of beefier charcoal-roasted beets. And eschewing exotic tuna or swordfish, for us the perfect steak-able seafood is the humble cuttlefish, which can be found in plentiful supply around our shores and becomes meltingly tender once charcoal-seared. Enter 'Brixham Calamari'.
Of course, some will always prefer a handsome Hawksmoor sirloin, washed down with a baritone claret ballsier than Bear Grylls. And, well, good on them. But if staying supple and sentient into the afternoon is a priority, we've got your back with our new lunchtime menu.​
Those martinis can wait till dinner. ​