From bankers to brides, our events and private dining expert, Stefana Chirvase, has hosted every sort of private dining guest. Here she shares how to do private dining best.
"It has to be in the city. Great food, obviously. Super private, please. Dedicated staff would be nice. Oh, and a chef – we must have our own chef." Sound familiar? Your boss, mum or friend asking you to find and book a private dining room. No mean feast.
Our private dining rooms in London – Bank, Borough and Canary Wharf – Manchester and Edinburgh have hosted just about every sort of event, so we know how to create a private dining experience that hits the right pitch for business meetings, engagement parties and everything in between."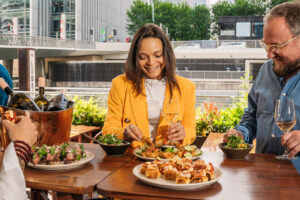 What to Think About When Booking a Private Dining Room
It pays to know three things in advance: where you want to do it, how many people you have and the sort of event you want to host. Once that's clear, is natural light a priority? Or a private chef? And what's your budget? At Hawksmoor, we have three price points for our three-course sharing menus, ranging from £67 to £98 per person.
The Benefits of a Private Dining Room
Privacy goes without saying, but also, there's the special attention you get from your own dedicated waiter(s). You'll receive more time from them at the table as they explain the dishes and wine pairings in as much detail as you, please. For a few hours, you can forget about the world outside. You're in the moment.
One thing people don't always think about is the acoustics. With a large group, it can be hard to hear each other in an already noisy dining space. So having a private dining room can be a little more sociable; it's easier to make connections with more people in your group.
Choosing Your Private Dining Menu
The private dining menus at Hawksmoor focus on a family-sharing-style concept, so everyone gets to try various dishes. You'll have three starters – smoked salmon, roasted scallops with white wine port, and fillet carpaccio, for example. Our seasonal vegetarian dishes are great, too. It changes three times a year.
Mains are where the magic happens: We serve three cuts of grass-fed dry-aged beef simultaneously – the porterhouse, bone-in prime rib and chateaubriand – each with a different texture and taste. Once we serve the steak, we do the 'steak chat': the waiter in charge will explain each cut, how it tastes and what you'll get out of it. The wine, too! Can't forget that. We also cater to Vegans and all other dietary requirements and ensure that no one feels left out in any way.
What I like about this experience is that you're not just going for food. You get to learn about the produce while you're there. It's an informative experience: how it's cooked and the wonderful suppliers we work with. Of course, we also read the table. Some guests just want to eat and be left alone!
Then There's the Beef-feasting Menu…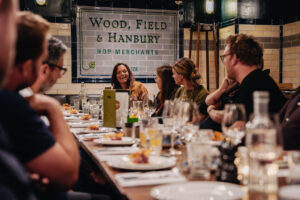 A five-course menu is only available in the private dining room at Hawksmoor Borough, near London Bridge. It's special because it comes with its own chef. My favourite dish is beef tea, which your chef prepares as the second dish.
So, you get a delicious beef tea (we British like their tea, even when it's made with beef!) with warm beef bread and beef butter for dipping and sipping. It comes out with a nice glass of champagne – our Sommelier's recommended fizz is Palmer & Co NV – to welcome you to Hawksmoor. It might sound like an unusual pairing, but it really works.
My other favourite dish on the menu is the fillet beef carpaccio. It's such a light dish that comes with aged parmesan, crispy shallots, and some quality olive oil on top. For me, that's the perfect starter. You get that umami hit, and it really gets your appetite going.
Most Memorable Event in a Private Dining Room
Sometimes we collaborate with suppliers and host unique experience events. For me, the best we ever did was for the Sublime Society of Beef Steaks with Pernod Ricard and Martell cognac. I used to think cognac was a particular drink, not versatile or a crowd pleaser and didn't go with food, but the cocktails made for the event really killed the stigma, and I was very happy to be proven wrong!
It wasn't supposed to be a workshop, but everyone started writing notes. A drink was matched with each dish, but then things went on until pretty late! The feedback was so strong that we started doing a series of them, which anyone can buy tickets for.
The Private Dining Options at Hawksmoor
Borough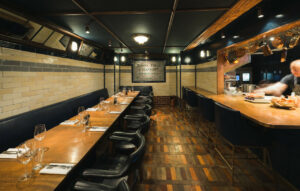 Our private dining room in London Bridge – well, Borough Market, to be precise – comes with its own open kitchen and, of course, a dedicated chef. You can see him or her in action, how each cut of steak is cooked differently. The chef will engage with you and up to 21 guests as much or as little as you like.
Bank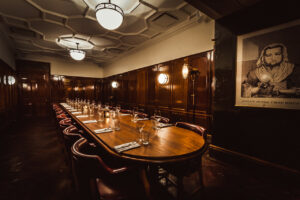 If total privacy is a priority, there's Guildhall's Sublime Society Room, which seats 22 guests. A space once dedicated to the actors and artists who founded the Sublime Society of Beefsteaks (back in the 18th century), this wood-panelled beauty is now the spot for those keen on mixing business – cue discreet AV kit – with delicious food.
Canary Wharf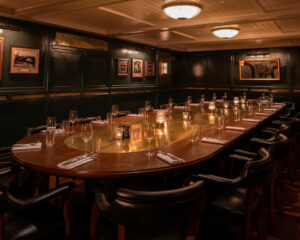 Our latest London restaurant has a private dining room that'll hold 20 guests. It's named after local legend Queenie Watts who entertained rowdy dockers, gangsters and celebs in the 60s. The interiors pay homage to her boozer, the Iron Bridge Tavern. It's the perfect place for noisy engagement parties.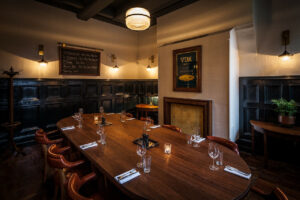 In Deansgate, our beautiful glass-doored private dining room seats up to 14 around a long oval dining table. We like to offer cocktail receptions on arrival, and there are three specially designed sharing menus full of classic Hawksmoor dishes. Of course, the team can also suggest wine pairings tailored to your choice of menu.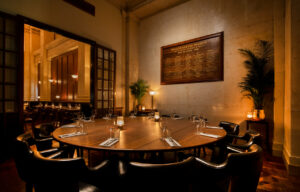 We have two private dining rooms at our premises in the Scottish capital: The Tellers' Room – which seats 46 – and the 13-seat McLellan Room. I love that while being in your own private space, you can also see into the buzzing restaurant. Feasts are headed up by grass-fed, locally sourced beef and sustainable Scottish seafood.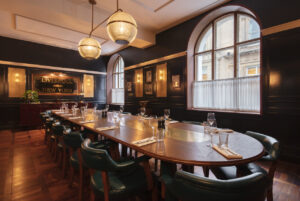 In Liverpool, our private dining room, The New Yorker, gives a nod to history gone by. Seating up to 16 people, the totally private space celebrates ties between Liverpool and New York, including one of the building's architects, Herbert Rowse. All this whilst feasting from a selection of menus that suit any experience, makes for a fabulous lunch or dinner.